Inserting Extra 'Headers' Into Your Page
This feature, available from the Web Page Properties window ('File / Web Page Properties') allows you to enter special HTML META headers that will be included in your page. META headers don't show up on your page, but they contain information about it and occasionally can be used to cause the browser to treat a page in a certain way.
This feature is for experienced users only, and can be valuable in allowing Search Engines to properly catagorize your Web Site when their 'robots' visit it.
Some of the more valuable META tag definitions are KEYWORDS, DESCRIPTION, AUTHOR, COPYRIGHT, etc...
You can also use the META tag "REFRESH" to cause your page to be reloaded into a user's browser at specified intervals.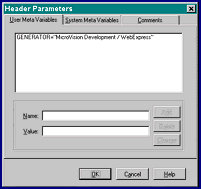 To enter a META header using WebExpress:
Select 'Edit / Web Page Properties' from the WebExpress Menu.


The Web Page Properties window will appear.


Click the button that reads 'Header Commands...'


The Header Parameters window will appear (shown at right)


For each META header you want to add, you must enter a Name and Value for that header.


Click the 'Add' button when you've typed the required Name and Value.


The header you added will be saved with your Web Page.
For example, if you entered "keywords" for the header Name, and "spark plugs, air cleaners, steering wheels" as the header Value, the header will be saved to your HTML Web Page file as:
<META NAME="keywords" CONTENT="spark plugs, air cleaners, steering wheels">
To learn more about META headers visit our Helpful Links page and check out the HTML reference sites listed there.
- Use your browser's 'Back' button to return to the tutorial -
---